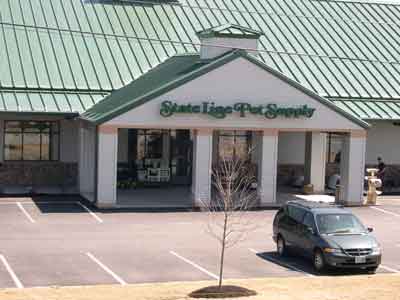 Store Hours: Mon-Sat 9am-9pm | Sun 9am-6pm
State Line Pet Supply, Inc. is one of the largest independent pet specialty retailers of pet supplies and solutions for the lifetime needs for all pets and their owners. It is family owned and operated, and was founded in 1989 by Mr. Dana Post. Mr. Post started State Line Pet Supply as a mail order catalog, bringing his experience and knowledge of mail order from his 10+ years as General Manager of State Line Tack, the country's largest mail order company during 1980's. Operating mail order out of an old sheep barn in Plaistow, NH Mr. Post recognized an opportunity for growth and opened a store front in October 1992 in the same mail order building.
Operating for 16 years in the same location, State Line Pet Supply continued to see growth. During which time it expanded its show room floor to include another 3,000 sq feet as well as expanding its selection and carrying the top quality brands on the market at a discounted price. In 2004, Mr. Post was approached by the State of New Hampshire to discuss the Route 121 Bridge Reconstruction Project to begin in late 2005. The result was not good, as during the duration of the project the state would make use of State Line Pet Supply's parking lot leaving only a small handful of parking spaces for its customers. At this time Mr. Post made the difficult decision to move the location of State Line Pet Supply.
In 2006, State Line Pet Supply opened its new modern state of the art location across town in Plaistow, NH on Route 125. Now offering larger selection (over 15,000 products to choose from) at the same discounted prices. The new store is packed full with a huge variety of pet supplies, accessories and foods that only one can imagine. From floor to ceiling and wall to wall, State Line Pet Supply offers everything for your dog, cat, bird, or fish, in addition to wild bird food and supplies.
"Our business philosophy is first and foremost to offer our customers discount pricing through and through," explains Mr. Post. "We also take pride in the fact that our staff shares their extensive pet knowledge about our products with our customers…. We are now in the top 2% of pet stores in the country based on size and volume. When you combine that with the friendly service and great prices, we are the number one choice for your pet."